Camping Village Fabulous
Offering easy access to both beautiful beaches and the historic capital city of Rome, Camping Village Fabulous has something for everyone. Set within 70 acres of alpine trees the park has a secluded feel but is packed with facilities.
The impressive pool complex has shallow areas for children and a whirlpool as well as some sun terraces where you can lay back and relax. The kids clubs offer a comprehensive programme of activities and entertainment. The whole family can enjoy use of the sports facilities which include football, tennis and table tennis.
Rome is just a short bus ride away and you can while away the hours exploring this amazing city and the famous Roman sites including of course the Colosseum.

Luxury Mobile Homes - Best Parcs - Family Friendly

Sun Terraces

City Break Destination

Kids Clubs Close to Beaches

Sports & Activities

Swimming Pools

Park Info
Parc size - LargeAl Fresco plots - GrassShade - PartialParking - On pitch


Activities
Water games (July/August)
Themed meals (July/August)
Themed live shows, concerts and cabarets (July/August)
Karaoke and disco (July/August)
Table tennis (July/August)
Health and fitness
Solarium
Leisure activities
Playground
Table Tennis
Evening entertainment
Cabaret Shows
Disco
Live Music
Live Shows
Themed Meals
Karaoke

Out & About
Rome 11 mile - The Sistine Chapel, St Peter's, the Colosseum, the Vatican - easily reachable by public transport from directly outside parc

The Diocletian thermal springs

Cultural excursions can be booked via the campsite - Rome by night, guided tours of Pompei, Naples

The lakes of Latium (Bracciano, Vico, Bolsena Lakes)

The Roman Coastal National Nature Reserve


Attractions close to Camping Village Fabulous
Bioparco - Giardino Zoologico di Roma
Aquapiper Waterpark
Biggest waterpark in central Italy. Excellent variety of pools and slides.
Parco di Bomarzo (Monster Park)
This is a large rather strange garden in which mysterious forms in the shape of ogres, dragons, bears and mermaids have been sculpted from the rocks. Children can climb all over the statues and explore the strange house that leans and tilts
Vatican Museums
One of the most important Museums in Italy and the world; includes the Sistine Chapel and great masterpieces done by the best ever artists; in order to enjoy it at best, a local guide could be helpful.
Capitoline Museums
Possibly the most important museum in Rome, one of many that can be visited.
Villa Borghese Gardens
Villa Borghese is a large landscape garden in the naturalistic English manner in Rome, containing a number of buildings, museums and attractions.
Other parks like Camping Village Fabulous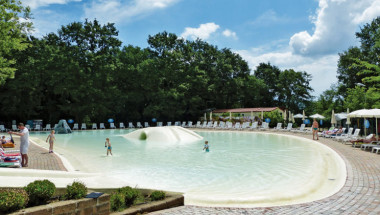 This friendly park is ideal for families of all ages and offers a fantastic animation programme and a fabulous lagoon style swimming pool.

---
With a beach joined on to this park you will love the family friendly and welcoming atmosphere of the Baia Domizia.

---
Related Reading for Camping Village Fabulous

Holiday Parks In Italy
Italy is a country full of charm and beauty and as a result, makes a great location for a holiday park break. The scenery and lakes in Italy are among the best in the world, not to mention the cultural cities and glorious beaches Italy has to offer too. From the stunning Lake Garda region to famous cities like Venice, there are so many places to visit and sights to see...