Caught between pine forests and a perfect beach, there is so much to see and do here that you will never want to leave. Baia Domizia enjoys a magnificent coastal setting just north of the Bay of Naples, close to all of the region's most famous sights.
So it offers a superb combination of sea, sand and sightseeing. Nestling within a pine forest, with views of nearby mountains, the pitches enjoy lots of shade from the midday sun and the park is attractively planted with flowers and shrubs. Facilities too are good, with a large supermarket, shops and restaurant all at the park's centre. There's also a good sized pool and children's pool, in addition to the nice beach that adjoins the park. Regular sightseeing excursions are available and for the more energetic there is a discothèque nearby, which can be heard from the park until the early hours.
This park offers a very wide selection of accommodation. The 2 bedroom classic holiday homes are a good budget option providing great value. For more space and a bit more luxury then opt for one of the Superior models which also have 2 bedrooms some of which offer air conditioning and a private outdoor deck. Or you may prefer the tent accommodation which is also very budget friendly and great for camping holidays abroad.

Market Leaders - Reliable & Affordable - Family Friendly

Great for Explore & Adventure

Great for Full on Fun

Watersports

Direct Beach

Football

Cycle Hire

Sports

Horse Riding

Basketball

Table Tennis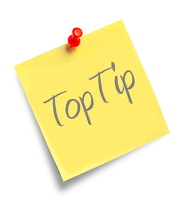 Baia Domizia Top Tip
Visit this park between 28th May and 4th June and you can enjoy the spectacular Sesto D'Esate Music Festival in nearby Monterspertoli."

Park Info
Parc sizeLarge - 1000 Pitches:
Opening Dates: 29/04/2017 - 16/09/2017
Nearest Airport: Naples (NAP) - 72km
Recommended Port: Calais - 1817km
Nearest Beach: Direct Access
Nearest Town: Baia Domizia - 2km


Activities
• Tennis
• Table Tennis
• Football
• Basketball
• Volleyball
• Gym
• Playground
• Windsurfing
• Canoeing
• Pedalos
• Dinghy sailing
• Kayaking

Out & About
• Get your fill of pasta, pizza and wine at the parc's restaurant
• Take a day trip to Naples or Capri
• Enjoy loads of different sports and water sports here

Attractions close to Baia Domizia
Aquarium of Naples
Oldest aquarium in Europe (1873) based inside the town hall. Included are many fish from around the Naples Bay. Mainly a scientific aquarium, there are 23 display tanks including small shoreline creatures and jellyfish.
Magic World
Water park - slides, drive-in cinema. Disco Sat/Sun.
Museo Archeologico Nazionale di Napoli
This museum has all the interesting finds from Pompeii and Herculaneum, both doomed cities after the eruption of Mount Vesuvius in 79AD. Over 100 various exhibitions with many beautiful and magnificent pieces dating back to 200BC
Musee Campano
One of the most important museums in italy for history and archeology. An impressive range of permanent exhibitions with temporary exhibitions on various themes. The museum is situated in the historical antignano building with foundations dating back to the 9th Century.
Museo di Capodimonte
Immersed in a spectacular park and after years of restoration, the palace of Capodimonte can now be considered one of the major Italian and European museums. Masterpieces by Titian, Bellini and Borgia plus art by Caravaggio and Vartol.
Other parks like Baia Domizia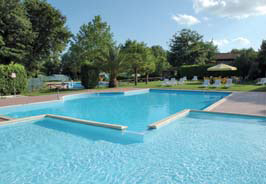 This friendly park is ideal for families of all ages and offers a fantastic animation programme and a fabulous lagoon style swimming pool.

---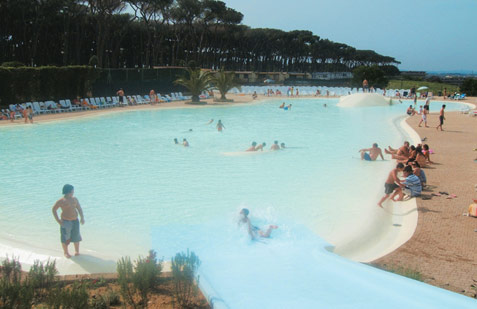 For those looking for a fun and friendly base close to Rome the Camping Village Fabulous is ideal set within 70 acres of alpine trees.

---
Related Reading for Baia Domizia

Holiday Parks In Italy
Italy is a country full of charm and beauty and as a result, makes a great location for a holiday park break. The scenery and lakes in Italy are among the best in the world, not to mention the cultural cities and glorious beaches Italy has to offer too. From the stunning Lake Garda region to famous cities like Venice, there are so many places to visit and sights to see...