Popular as a stopover on the journey south, this parc also offers superb facilities and a really tranquil location. Located close to the main route down the Cherbourg peninsula, this is a quiet, friendly 'Castels' parc with a versatile location. On the one hand it's a great place to simply relax while you soak up the atmosphere and enjoy its beautiful setting in the grounds of the manor house.
At the same time, it's ideally placed for stopovers. But whatever you come for, you'll find it an absolute delight. There are excellent facilities here, which include a beautifully landscaped and recently re-modelled, covered water park that's complete with slides and a water chute, great fun for all ages. Don't forget your fishing rod either, as you're welcome to try your luck on the little lake, free of charge. Ideal for young families, the friendly owners work extremely hard to make your stay here enjoyable.
This Normandy park has a good selection of holiday homes from the 2 bedroom Comfort models to the 2 and 3 bedroom Superior homes some with deck. You can also choose to stay in tent accommodation which is excellent value for money.

Market Leaders - Reliable & Affordable - Family Friendly

Great for Authentic Europe

Indoor Pool

Waterslides

Watersports

Near Beach

Football

Cycle Hire

Cycling Notes

Sports

Fishing

Near Lake

Horse Riding

Canoeing

Dog Friendly

Table Tennis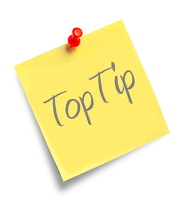 Chateau Lez Eaux Top Tip
"The famous fountain show at Versailles is not to be missed and can be seen throughout the summer."

Park Info
Parc sizeSmall - 229 Pitches:
Opening Dates: 28/04/2017 - 10/09/2017
Nearest Airport: Dinard (DNR) - 90km
Recommended Port: Cherbourg - 108km
Nearest Beach: Jullouville / Saint Pair - 4km
Direct Access to Lake: Direct Access
Nearest Town: St Pair sur Mer - 3km


Activities
• Tennis
• Table Tennis
• Football
• Running track
• Fishing
• Playground
• Cycling
• Trampolining

Out & About
• Two pool complexes including one just for little ones
• Brush up on history at the fascinating WWII museum nearby
• Water sports enthusiasts will love Granville

Attractions close to Chateau Lez Eaux
Bayeux Tapestry
The Bayeux Tapestry tells the story of the Norman Conquest. It is over 900 years old and is 70 metres long with 58 different episodes
Cobac Park
Leisure park with swimming pool, slides, roundabouts, miniature train and play area. Mini-golf, bouncy castle and pony rides
Zoo de Champrepus
A good zoo with a variety of animals - 50 species. 7 hectares of zoo with animals living together where possible in their natural environment
Channel Island Boat Trip
Boat Trips to Guernsey and Jersey from St. Malo. Journey takes 1 hr 15 mins to Jersey and 1 hr 50 mins to Guernsey
Aquarium de St. Malo
Opened in 1996 the aquarium gives a tour of the oceans of the world and their sealife from tropical waters to arctic ocean. One pool (120m2) offers the opportunity to touch the fish. Sail on board a real submarine (Nautibus). Magnificent shark collection, free car parking and picnic area
Musee du Debarquement
The museum has a mission to tell younger generations about the events of 6th June 1944. The museum was created in 1953 and is built on the site of the artificial harbour. Guided tours are available in English and German. A visit lasts 1 hour and 15 minutes. Souvenir gift shop at the museum
Musee de la Seconde Guerre Mondiale
Small museum dedicated to the second world war. Displays of miliatary weapons and uniforms
Other parks like Chateau Lez Eaux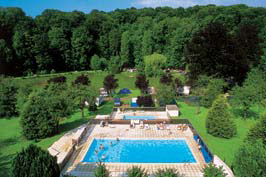 This well run holiday park is the ideal base for families looking for first class accommodation and facilities with a beautiful lakeside setting.

---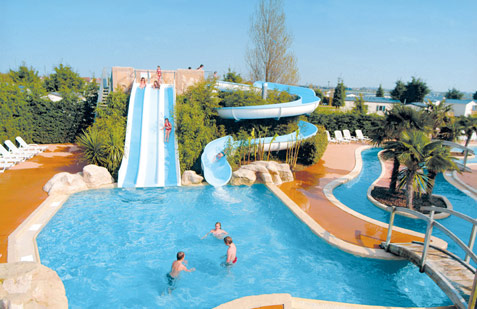 La Cote de Nacre is a family run park and this is evident in the well cared for appearance of the park and also the excellent facilities including no less than 5 pools to enjoy.

---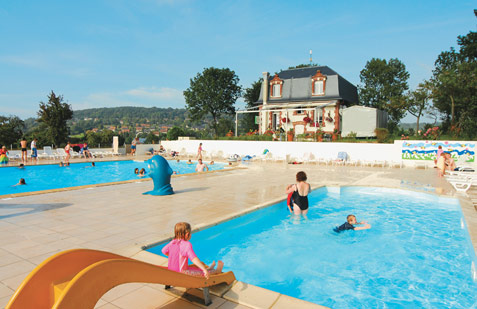 ---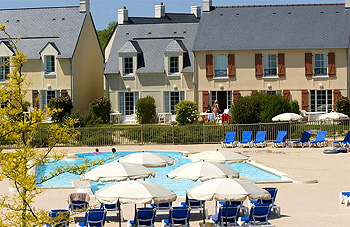 This resort is 9 km from Omaha Beach, one of the D-Day beaches, and close to the lively town of Port-en-Bessin.

---
Related Reading for Chateau Lez Eaux

Discover Normandy
The Normandy region of France stretches across 360 miles of stunning and dramatic coastline. The beaches are packed with families enjoying the sunshine during the summer months, while at other times of the year many visitors come to see the emotionally evocative World War II D-day landing beaches. Of course with so much coastline it would be easy to think that this place is all about the beaches and, while they are a big part of what makes the area so popular there is also much more to enjoy...