Discover Vosges and Jura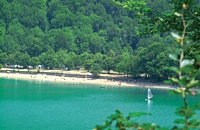 The region of Vosges and Jura lies partly in France and party in Switzerland, and is best known for its ski resorts and wide range of out door activities. The atmosphere and style of the resort is Scandinavian and rather upmarket. The area is blessed with stunning natural beauty and this makes it popular not only with those looking for adventure but also with walking enthusiasts, artists and photographers.
In the area you can expect to find beautiful ski slopes, thick forests, breathtaking frozen lakes and a very warm welcome. The little villages dotted around the mountains offer a good range of shops, markets, bars and restaurants. Food in the area is rich and warming with cheese featuring strongly.
There are several holiday parks to choose from. La Pergola is a fun and friendly holiday park with something for everyone. The large pool complex has slides and chutes and there is also a lakeside beach offering canoeing, dinghy sailing, kayaking and pedalos.
Le Val de Bonnal Holiday Park has a rather unique setting in the former estate of a chateau with four lakes and a lakeside beach. The site is also packed with sporting facilities including a zip wire and high rope course for the more adventurous!
See all Vosages and Jura Holiday Parks >>
---