Discover Dordogne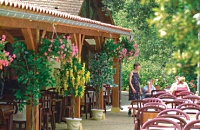 Dordogne is a region of France offering dramatically contrasting landscapes and numerous outdoor activities. It is also a very popular holiday destination for families looking for a relaxing and tranquil setting.
The north east area of Dordogne is often referred to as 'le Perigord Vert' and offers lush, green rolling hills, pine scented forests and large open prairies. This peaceful and rather undiscovered area of France is the place to go if you are looking for pure relaxation!
The south east is a more popular tourist destination, yet still offering something a little bit different. In this area you will find numerous prehistoric sites making it popular with historians as well as holiday makers. The area also has many castles and caves to explore. Some of Europe's most important prehistoric caves are sited right here in the area of Lascaux.
Foodies will be in heaven in the Gastronomic centre at Perigueux. Here you will find some of the best local produce in France including priceless truffles. Pies or 'pates de Perigueux' or cured meats are specialities of the area and are best enjoyed with a view of the countryside and a glass of good local wine!
The area has many holiday parks including Le Moulin de Paulhiac. This park is a stunning blend of first class facilities and beautiful design. With something for everyone the park is popular with families who have children of all ages. There are several pools, slides and chutes and a well organised programme of activities. There are also many types of accommodation to choose from including new Safari tents!
La Palombiere is another excellent holiday park with top notch facilities. The beautiful setting in the lush green countryside lends a tranquil feel to the site, yet beneath the surface is a lively, action packed park. Children are well catered for with shallow pool areas, clubs and play areas. The whole family can enjoy well organised evening entertainment in high season.
See all Dordogne Holiday Parks >>
---