Holiday Parks In France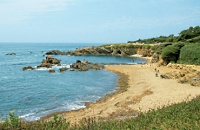 France is one of the most popular destinations for holiday park breaks and it's easy to see why families and couples alike return year after year. The gorgeous weather, golden sandy beaches and historic sites and castles all combine to make an enjoyable and memorable holiday.
The 4 Star holiday parks are scattered throughout France from beautiful Brittany to the stunning Cote d'Azur. Or maybe you prefer to head for the peaceful Loire Valley or romantic Paris. The choices are endless.
Dormaine de Kerlann is one of the most popular holiday parks and is based in Brittany. This 4 Star campsite has the advantage of a lovely woodland setting but at the same time is only 3 miles from a selection of sandy beaches. Dormaine de Kerlann is a very pretty site with a swimming pool complex and an infant pool which is shaded. There are 3 kids clubs which go down a storm with the little ones and also evening entertainment. For the more active there are plenty of sports facilities from golf to football and from volleyball to bike hire. The site is also easy to get to from the UK by ferry or by air as there are 2 airports close by.
La Reserve in Aquataine is another favourite holiday park in France and is a real find if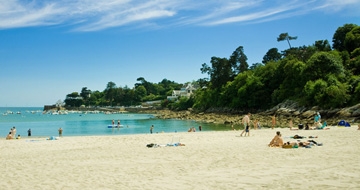 you are looking to escape the hustle and bustle of everyday life. It has a secluded setting and even has it's own on park beach. For some, it is their very own slice of paradise. La Reserve is especially suited to families with children and those who love nature because of the surroundings. Highlights of this park apart from the beach include the fabulous pool complex, water slides and surrounding walking routes. There is an amazing view from the beach where you can also watch the sun set whilst enjoying a glass of wine.
If one of the reasons you want to visit France is to go to Disneyland Paris then La Croix du Vieux Pont in Paris is the holiday park for you. Staying at the La Croix du Vieux Pont is a very cost effective way of visiting Disneyland when compared to hotels in the area. The site even has it's very own coach which goes to Disneyland a few times a week. And the campsite itself is full of fun too.
There is a free kids club for 5-12 year olds, 2 outdoor pools, heated covered pool, indoor water slide and a paddling pool for toddlers. You will also find loads of sporting activities. La Croix du Vieux Pont benefits from a parkland setting with perfectly landscaped surroundings. It is set by a stunning sparkling blue lake and there is even a small Go Kart track. Overall La Croix du Vieux Pont is an excellent choice for a family holiday in France.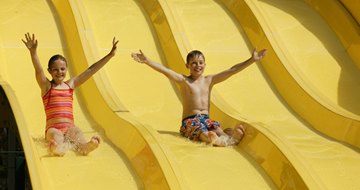 La Sirene in Languedoc is yet another top class holiday park in France based in a region called Argeles-sur-Mer. La Sirene is positioned just a stroll away from the beach making it a good choice for beach lovers. There is even a mini train that runs from the park to the beach in high season. The campsite is fringed with palm trees which make excellent shades in the peak of summer. La Sirene also has plenty of amenities as you would expect at a 4 Star holiday park.
You can even take part in mountain bike excursions and even Sea kayaking and Scuba Diving. From this region you can visit Andorra for some duty free shopping and the campsite have organised excursions to Andorra, Barcelona and the Catalan Mountains. Or if you prefer you could just relax on the campsite by the swimming pools. La Sirene runs a free club for the kids aged 5-12. If you choose to stay on this lovely campsite then car hire is recommended to make the most of exploring the surroundings.
Golf lovers will be in a golfing paradise in the Vendee region of France as there are five 18 hole golf courses. Nature lovers will also like this region due to the abundance of wildlife. The beaches in Vendee are amongst the best in France and once you have been on a Vendee beach you will be forever comparing other beaches to it in the future. All of these aspects combined with glorious summer weather make this place a perfect venue for a family holiday.
Le Bois Masson is a 4 Star holiday park in the Vendee and is a firm family favourite. The park is lively and has a friendly welcoming atmosphere. There is loads of entertainment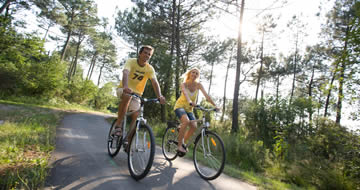 and close to the beaches. You will also find all of the usual sports activities and free kids clubs. The evening entertainment in high season is very good and there is even a Hollywood Cabaret Bar. If you want to get out and about during the day then there is plenty to explore. A recommended day out just half an hours drive away is a quaint village with a medieaval castle, large lake and a sandy beach.
All in all France is a fantastic country full of contrasts with loads to do for the whole family. The holiday parks are of an extremely high quality hand picked for their amenities and locations. For families the holiday parks represent great value for money especially for those wanting to stay for ten nights or more.
See All Holiday Parks In France >>
---