Discover Normandy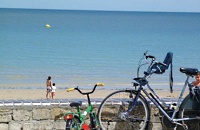 The Normandy region of France stretches across 360 miles of stunning and dramatic coastline. The beaches are packed with families enjoying the sunshine during the summer months, while at other times of the year many visitors come to see the emotionally evocative World War II D-day landing beaches. Of course with so much coastline it would be easy to think that this place is all about the beaches and, while they are a big part of what makes the area so popular there is also much more to enjoy.
Travel just slightly inland and you will find many market towns. The area is a wonderful food producing region and local delights include cheeses, Pate and calvados. The pretty seaside town of Dieppe is also well worth a visit. The oldest seaside resort in France has an attractive harbour as well as The Benedictine Palace & Museum.
Holiday parks are plentiful in Normandy and there is bound to be one to suit your needs. We love La Vallee which is located in the sophisticated resort of Deauville. The site has something for everyone including a wonderful pool complex and many sporting facilities including a climbing wall.
La Côte de Nacre is another of our favourites with top class facilities and accommodation. Water lovers are spoilt for choice with five swimming pools! The park is surrounded by peaceful countryside and has a relaxed feel, popular with families with children of all ages.
See all Normandy Holiday Parks >>
---