Toddler Friendly Holiday Parks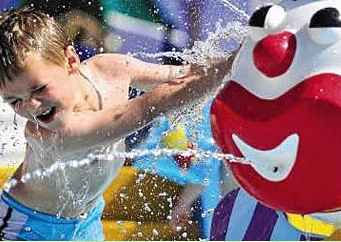 Taking your toddler on holiday can be a fantastic experience for the whole family, but it is important to choose your destination carefully. Thankfully Eurocamp have made this a whole lot easier with the introduction of Petit Paradis Parks! This collection of 11 holiday parks throughout France and Spain and Italy are ideal for toddlers and all have special features to ensure a stress free and fun packed holiday.

So what makes Petit Paradise Parks so perfect for toddlers? Well safe toddler friendly pitches and gated decking to start with. This ensures your little ones have plenty of space to run around and play. These parks also have the most toddler friendly paddling pools and life guards are on duty to give parents total peace of mind. Then there are the kids clubs and organised activities, all of which are run by qualified staff. All activities are age appropriate and give your child the chance to make friends and socialise while learning new skills. Rumble trucks and all terrain buggy hire are also available at Petit Paradise Parks and make getting out and exploring as easy as possible. Finally there is the baby sitting service, an optional extra designed to give mum and dad some well deserved time to relax!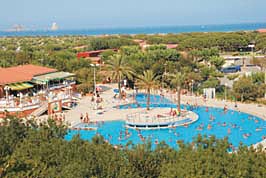 If Spain is you favourite holiday destination then El Delfin Verde in Costa Brava is an excellent choice. This fun packed park features one of the largest swimming pools in the region, and is crammed with activities and attractions for adults and children alike. There are several bars and restaurants, a huge array of sporting facilities and of course all the toddler essentials mentioned above. This park also has a fantastic location beside a long sandy beach - the perfect place for those who like to laze in the sun. Locally there are several festivals to enjoy in March, May and June. The European Balloon Festival in Igualada is held in July and is a must if you are in the area!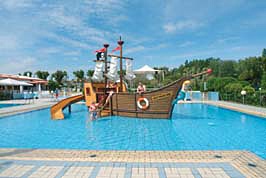 If Italy is more your cup of tea then Ca'Savio on the Adriatic Coast is the one for you! This large and lively park has no less than 5 swimming pools, including paddling pools and slides for the little ones, fantastic evening entertainment and plenty of sporting facilities. The attractive pine wood to the rear of the park brings a tranquil feel to the site, yet you are just an hour's boat trip from beautiful Venice. Ca'Savio also boasts direct access to a gorgeous sandy beach where you can relax on the sand or maybe hire a pedalo. This park is very highly recommended for families.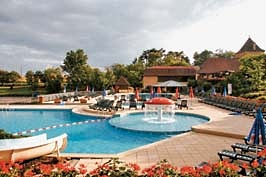 France is home to the majority of our Petit Paradis Parks including the very popular St. Avit Loisirs in Dordogne. This park is surrounded by lush countryside and is a great choice for families who enjoy outdoor activities. This park has been awarded the highest possible rating and has some outstanding features including the amazing pool complex, lazy river and fantastic evening entertainment which is held outdoor around the pool. Other features include an amazing traditional restaurant, a choice of kid's clubs and plenty of sporting facilities. St. Avit Loisirs also has some of the most spacious pitches we have seen, some with beautiful countryside views.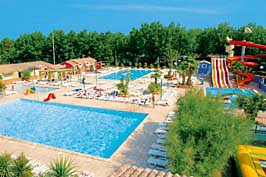 Les Sablons is a good quality park which has recently been improved and now features a fantastic new bar and restaurant complex, offering a range of places to eat and drink. The site also boasts 4 swimming pools including children pools with plenty of slides and chutes. This park becomes rater lively in high season with nightly discos and cabaret acts. During the spring time it is most popular with families with toddlers looking for more of a relaxing holiday. The direct beach access is a real bonus and the sandy beach is safe for children and perfect for sun bathing. We recommend visiting the Children's Festival in Montpellier from 7th to 15th of May!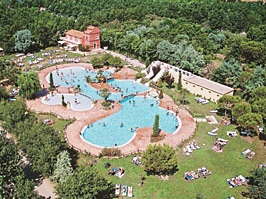 Sérignan Plage in Languedoc is a large and lively park with all the facilities you need for a family holiday and a whole lot more besides! Not only does the park boast direct access to a superb sandy beach, it also has a gigantic outdoor lagoon pool complete with waterslides and shallow pools for the little ones, a unique spa with hydro massage whirlpool and underwater massage path. The park also has a fantastic typical Provencal restaurant. Sporting facilities are also plentiful for adults and children alike. And the range of kids clubs ensures that they are entertained from morning till night. It is easy to see why Sérignan Plage has become one of our favourite parks in France!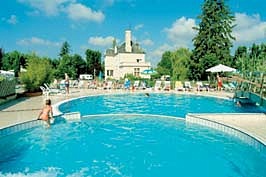 Le Château des Marais in Chambord benefits from a fantastic setting in the grounds of a historic Château and offers a very high standard of facilities for the whole family. As well as all the features of a Petit Paradis Park there are two swimming pools, a lazy river, a spa with hydro massage and Hammam (Turkish bath) and a good array of sporting activities to enjoy. Close by guests can enjoy fishing and canoeing at the Loire river and the nearby traditional village is a good place for sightseeing and shopping. Families may also enjoy a visit to the Loire Valley Festival which takes place from 7th to 13th June at Amboise, just a short drive away.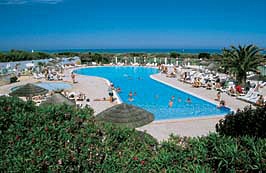 Le Brasilia in Roussillon makes an ideal choice for those seeking a beach-based holiday. And with everything including the airport close by, car hire is not essential. This friendly and rather lively site is very popular with families with toddlers as everything has been thought of to ensure a stress free holiday. There are beautiful swimming pools with safe shallow areas, vast sun terraces, and numerous places to eat and drink. The site even has a complex of shops, so there is really no need to leave. Evening entertainment is also excellent and is aimed at families. We recommend taking a day trip to nearby Perpignan and it is even possible to visit Spain for a day.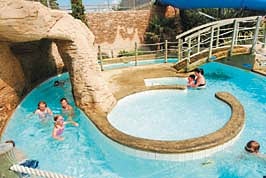 Les Ecureuils is a beautifully landscaped park located in the Vendee region and offering a fantastic setting beside a sandy beach. The park caters very well to the family market, with plenty to keep both adults and children amused. The fantastic pool complex has shallow areas for toddlers and slides and chutes for older children as well as sun terraces for relaxing. The park also has a relaxing bar and restaurant and evening entertainment can be enjoyed in high season. Locally there are several attractions including parks and gardens and the jazzellerault Festival at Charellerault, from 20th to 29th May is well worth a visit.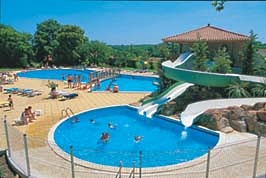 Also in Vendee, La Garangeoire is a stunning park with gorgeous landscaped grounds and a great location amongst woods, meadows and lakes. With the beach less than 15 minutes away this park offers the best of both worlds. Onsite is a superb outdoor pool with sun terrace and a covered pool for the little ones to splash around in. There are also plenty of sporting facilities for adults and children alike. Evening entertainment is low key but there is a restaurant and bar overlooking the pool and a cosy pub style bar located in the converted outbuildings of the château. We particularly like the authentically French atmosphere on this park and think it is perfect for families looking to relax.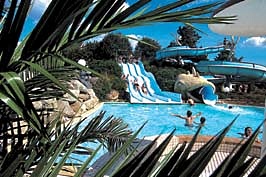 Western Brittany is on of the most popular family holiday destinations in France and Pointe St. Gilles holiday park certainly has everything family's look for. There are superb swimming pools with spa, Jacuzzi and slides. Younger children also have several paddling pools to enjoy. This award winning site offers evening entertainment, sporting facilities and numerous places to eat and drink whether you are looking for relaxed family dining or something more luxurious. The site also boasts an impressive health and beauty centre, which is ideal for parents in need of some pampering. Nearby Bénodet is well worth a visit, and offers a good selection of promenade cafes, crêperies and restaurants.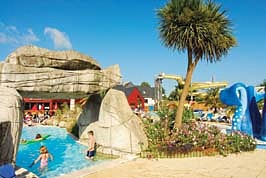 Also located in Western Brittany is L'Atlantique holiday park, a 4 star large and lively site which is very popular with families with young children. As well as all of the Petit Paradis essentials this park boasts beautiful swimming pools including a new covered pool with Jacuzzi and several large waterslides. Children will also love the authentic fishing boat in the play area and the ocean-themed minigolf. For adults looking to be pampered the heath club offers a range of beauty treatments including massage. l'Atlantique enjoys an idyllic setting too with a nature reserve just a short stroll away.
---