This page may contain affiliate links, meaning when you click the links and make a purchase, we may receive a commission.
Looking for top holiday parks for you're French summer holiday but don't know where to start? Here are our top 5 holiday parks in France for families! This selection of parks located all across the country will inspire you to book your next trip and the range of amazing activities on offer is sure to get the kids excited too.
1. La Baume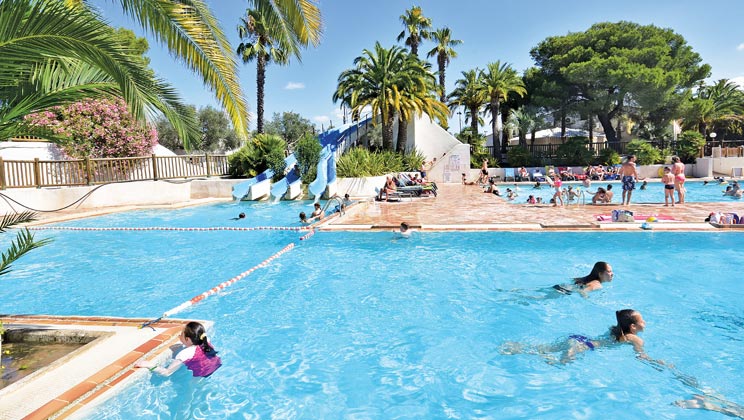 Our first pick takes us to Fréjus in the South of France. Le Baume is an incredible park with countless activities for all the family but even a relaxing day on the park can be full of adventures. A three lane waterslide, lagoon pool, live entertainment and on-site disco ensures that there's never a dull moment.
However, if you want to make the most of the location and try one of the activities organised by the park you'll be spoiled for choice. With experiences such as quad biking, climbing, scuba diving and go karting on offer, there'll be something for everyone to enjoy.
After a long day return back to the park and sample gorgeous food from the park's restaurant or takeaway before heading to the games room for a competitive game of pool. Make the most of the coastal location and the park's kids club throughout you're stay an venture down to the beach with an adults only picnic by the sea. Be immersed in all La Baume has to offer and make a trip to remember.
La Baume Family Holidays in France >>
2. Airotel Pyrénées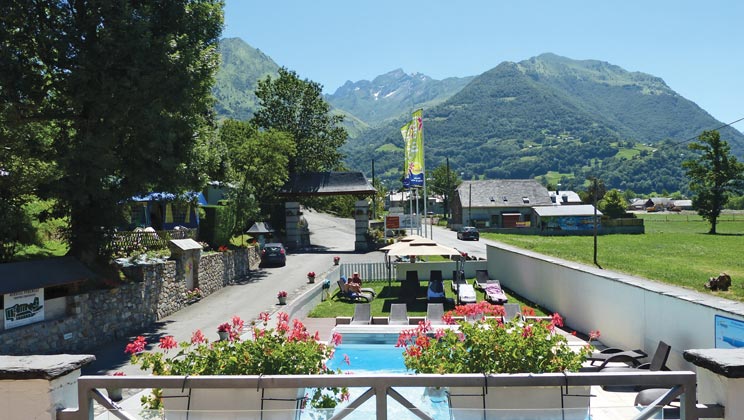 Enjoy breath taking natural beauty and experience local history just a stone's throw from this brilliant French holiday park. Situated close to a national park, the landscape of the Pyrenees is accessible from the park by car. The wanders of the mountains are highlighted throughout the park with accommodation options such as safari tents or mountain lodges, that will capture children's imaginations. If relaxing in the pool looking at the stunning mountains and forests isn't enough, Airotel Pyrénées offers a range of experiences.
Go rafting, climbing, horse riding or be brave and take on the adventure course. Take a family trip into the small historic town of Luz St Sauveur and stroll through streets lined with traditional buildings and the same mountain views boasted by the park. This park my be smaller than some of its competitors however there is no compromise on quality. Explore the Pyrenees on your next summer holiday from Airotel Pyrénées.
See latest prices at Airotel Pyrenees >>
3. St. Avit Loisirs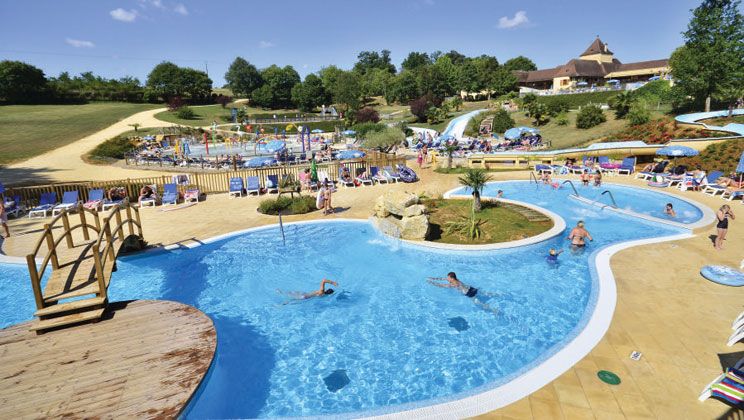 Located in the luscious Dordogne countryside this park is ideal for families who are looking for both adventure and relaxation. Take family excursions canoeing down the nearby river gorges, or a day trip to the nearby towns which are steeped in French culture. Enjoy a day by the pool where the waterslides are perfect entertainment for the children and the jacuzzi pool offers something fun and different for all ages. If parents want a day or two to themselves to relax, the park's kids club is sure to entertain the children for the day.
Extend a day of family fun with entertainment such as the family disco or a trip to the games room for some friendly competition. Take a day out to L'Aquarium du Périgord Nord, just 10km away, or the Gouffre de Proumeyssac, one of Dordogne's most incredible cave systems. Use St. Avit Loisirs as a base for discovering the magic of the French countryside and the beauty of the Dordogne region.
Top Deals at St Avit Loisirs >>
4. Les Ecureuils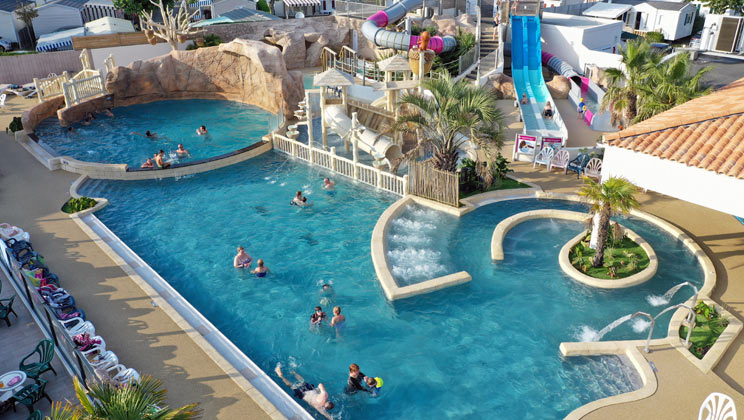 Experience the West Coast of France from Les Ecureuils, a park that is sure to be a contender when deciding on holiday locations year after year. Less than 1km from the beach and with a huge amount of activities for both children and adults, this park is sure to keep you busy and allow you to make the most of your French summer holiday.
Try surfing or scuba diving on the more temperate French coastline, or have a pool day at the park. Parents can enjoy some me time in the spa or gym by taking advantage of the kids clubs. Then head to the restaurant to extend a day of relaxation with no washing up. The local area keeps up with the excitement of the park. A day trip to Atlantic Toboggan water park or the Feeling Forest adventure park is sure to be a hit with all members of the family. Les Ecureuils is a fabulous location for an action packed family trip.
Check availability at Les Ecureuils >>
5. Domaines des Ormes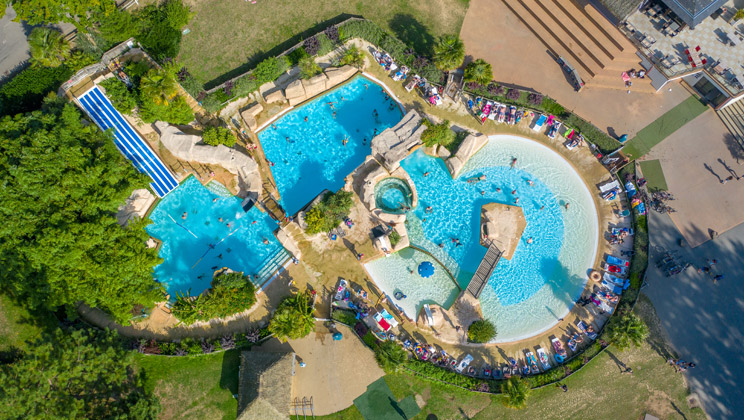 Last but by all means not least in our top 5 holiday park selection is Domaines des Ormes. Located in Brittany to the north of France this large holiday park offers the ultimate family holiday experience. With a huge number of experiences to choose from including Quad biking, windsurfing and knee boarding. Try the Treetop adventure courses or find the thrill in karting. At this park there all ages will find something to be excited about. The pool complex boasts and impressive dome as well as a wave pool, lazy river and jacuzzi. The kids club allows parents to take a day off and relax or to try some activities of their own such as paintballing or archery.
A vast selection of entertainment is on offer which everyone can get stuck into such as theme nights, quizzes and karaoke. As if that wasn't enough the local area is home to unmissable locations and day trips. Explore nearby castles and historic towns, hop on a boat to discover Guernsey or Jersey or head to the dramatic Mont St. Michel. Return to Domaines de Ormes year after year and still experience something new in this fantastic area of France.