Last Minute Holidays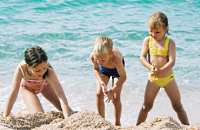 If you like to arrange your camping holiday at the last minute then there are some real bargains around especially for families. These deals apply to many holiday parks across Europe and are for departure dates leaving in the next few weeks.
Just some of the great deals we found include Camping les Etangs Fleuris in France which is the perfect base for visiting Euro Disney. You can currently book a 2 bedroom Comfort Plus mobile home for 7 nights on 28th July for just £1106 per family.
If Italy is your preferred choice then what about Villaggio Camping 4 Mori in stunning Tuscany. You can book a 2 bed mobile home with air con on 29th July for 7 nights for just £1209 per family. Camping Family Park I Pini also in Tuscany has a great offer on 1st August for 7 nights - a classic 2 bed mobile home for just £620 per family.
With plenty of similar last minute deals on offer why not find one to suit your chosen dates and budget? Availability is limited as these last minute campsite offers are selling fast.
Call Canvas Holidays On 0345 268 1936 or

See all Last Minute Offers Online >>
---