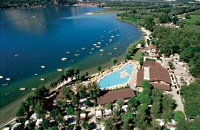 If you're looking to take a family holiday on a campsite in Europe then you're in the right place. Siblu and Keycamp are offering loads off money off holidays for 2009 so you can make some big savings on your family break.
Book Online – Get £25 Discount
Without you even having to do anything extra and just for the fact of booking online, you get £25 off the price of your holiday. It's always a bit extra cash to spend when you get there. Siblu are currently offering this great deal so if you want to take advantage of this saving don't forget to complete your whole purchase online instead of using the phone. It's quick and easy to do and you usually get your holiday confirmation through faster as well. You only need about £50 to reserve your holiday if you book in advance.
Advanced Booking Offer
If you book early enough in advance you can get a massive 25% off the price of your holiday if you book with Siblu. Keycamp are also offering a similar deal and you can save up to £155 off your summer holiday if you book by early November the year before you travel. So it pays to plan in advance and get that booking made. In many cases you can reserve your holiday for around £50 deposit so you have the rest of the year to save up to pay the balance. The balance is usually due about 10 weeks before your holiday start date.
All Kids Go Free
Yes you have read that correctly. All children under the age of 18 get to holiday FREE of charge. This is what makes staying in a mobile home on a holiday park are much more economical choice as opposed to hotels and apartments where you usually pay per person.
Extra Nights Free
With Siblu if you book to stay at a Siblu owned holiday park for 10 nights or more, you get a 7 night holiday absolutely free. You can take your free week holiday during specified dates between April and June, and get to stay in accommodation of the same standard or higher than the one you paid for. With Keycamp holidays, if you book for 14 nights you get up to 7 nights extra free. This deal is great if you're looking to go on holiday for up to 3 weeks at the one time.
Short Breaks for £99
You can stay at any Siblu owned holiday park for just £99 for 3 nights at certain off peak times of the year. This is a great idea for a last minute bargain break outside the summer months. You need to book early for these deals to guarantee places.
Introduce A Friend
If you introduce a friend to Siblu you and your friend get £50 off the price of your holidays.
Two Friends Travel Free
If 4 adults are travelling together in the same car and sharing the same unit of accommodation then 2 of you go free. That means you only pay for 2 adults and 2 go absolutely free!
Single Parents Pay Less
For single parent families, Siblu offer £75 of 2009 holidays when you stay 7 nights or more. This is a great offer and means the overall cost of the mobile home for the family will be more affordable leaving you with extra cash to spend on having fun when you get there. Keycamp holidays offer £60 off the total price of holidays for single parents in July and August and £40 off at all other times of the year.
Book a Keycamp Holiday and get 40% off a Second Trip
This has to be one of the best holiday park deals around at the moment. Imagine loving your holiday so much you want to go back the year after, and even better, you get 40% off your second holiday. Terms and conditions apply as ever but from what we have read, this is a special offer not to be missed!
Keycamp Car Hire
If you book your car hire with keycamp you get free linen and towel hire on the holiday park which could amount to a big saving while you are there.