UK Campsites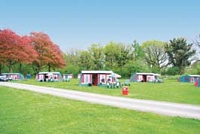 The credit crunch and the fall of the pound against the Euro caused a big shift in the holiday market. Many people chose to stay in the UK rather than travel to Europe. Even with the recession seemingly behind us, many people are still choosing to the holiday in the UK and there are many reasons for this.
Obviously for financial reasons it makes sense. Without flights to pay for there is more money to spend on things like accommodation and fun family days out. Self catering is also much easier in the UK. Large supermarkets are everywhere and when you have fussy kids it is much better to be able to cook them familiar food. Staying in the UK also offers more flexibility. You don't have to stay in one place, you can pack up the car and travel around if you choose too.
The UK also has some beautiful beaches. Blue flag beaches are family friendly, safe and clean and offer traditional charm with many having promenades, arcades, piers and fun fairs close by. We also have some of the best open countryside and woodlands in Europe. There are many Holiday parks and camp sites across the UK. Some are large with huge pool complexes, entertainment venues and plenty of sporting facilities while others offer a more peaceful and tranquil holiday base.
Spiers House is a quiet and peaceful camp site located in the heart of the stunning North Yorkshire Moors. The forest location makes it ideal for nature lovers as well as those just looking for peace and quiet. There are several waking trails in the area with walks ranging from gentle 1 mile strolls to challenging 10 mile hikes. All offer stunning views.
Roundhill in the New Forest is a small and friendly site. It will particularly appeal to those looking for adventure and outdoor pursuits. The site has plenty of open grassy areas where children can enjoy ball games. Off site Rambling and cycling popular activities and there are numerous paths and trails running through the woodlands. Children will particularly enjoy the junior fishing which is available on the site.
Low Wray in the Lake District is perfectly located for those who want to try out door activities both on land and water. Lake Windermere is right on your doorstep offering a large choice of water sports. Those who prefer to stay on dry land can enjoy cycling and walking. The site is small and popular with both couples and families. The site is also a National Trust park, so you can expect high standards as well as stunning views over Wansfell Pike!
Holmsley is a family campsite on the southern edge of the New Forest. The site offers a peaceful retreat and is popular with families due to the close proximity to several beaches. Those looking for adventure can enjoy many ranger led activities and children will love the chance to spot deer and ponies. The accommodation is of a high standard in well designed tents. Luxurious and very spacious Safari tents are also available at this site.
Great Langdale benefits from a prime location within one of the Lake District's most dramatic valleys. The location makes the site popular with families but also with those who enjoy outdoor pursuits. Challenging terrain such as that of Scafell Pike and Bowfell offers not only dramatic scenery but also adventure!
Cobleland has a stunning setting in the Queen Elizabeth Forest Park. The site offers peace and quiet and is ideal for couples and families looking to escape! The site holds a prestigious David Bellamy Gold Award for conservation and is a good choice for nature lovers. The dramatic and stunning countryside of Stirlingshire offers everything from gentle walking and cycle paths to challenging tracks and water sports.
Cashel over looking Loch Lomond has much to offer both on land and water. The stunning loch can be explored by cruise boat and families will enjoy the leisurely sail while taking in the sites. If you have your own boat you are welcome to set sail yourself. Those who prefer to stay on dry land can enjoy many ranger led activities and beautiful walks. The site itself is open from March to September and offer activities including fly and fresh water fishing.
Bracelands offers breathtaking views of Wye Valley and has a peaceful countryside setting. You can relax on site and stroll around the grounds or head out in to the countryside and explore and many walking and cycle paths. The site is small and friendly with plenty of grassy areas for children. The Tents are good quality and provide comfortable accommodation.
---