Discover Sicily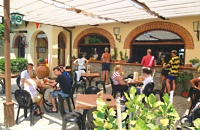 Sicily is a land of dramatically contrasting landscapes. The Island has an amazing heritage and historical sites can be found everywhere. The Island also has several beautiful sandy beaches and the bustling, cosmopolitan resort of Taormina has some of the best coves on the island. The Capital Palermo is well worth a visit to see the old Roman and Greek ruins.
The smouldering presence of Mount Etna is a site that can't be missed! The area is also very agricultural with large areas of farmland and many market towns. The food here is some of the best you can find anywhere and this makes the island popular with foodies as well as families.
El Bahira Holiday Park is a good choice for those with children of all ages. There are two spacious swimming pools and spacious sun terraces complete with loungers where you can lie back and relax. The site also offers a good range of facilities for children including large shallow pool, kids clubs and activity programme.
See all Sicily Holiday Parks >>
---