Discover Vendee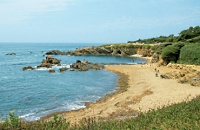 The Vendee is a large area located on the French Atlantic coast. Situated just south of Brittany and Nantes, and slightly to the north of La Rochelle it is easy to reach by air, car and ferry.
The Vendee is named after its river which meanders through the south east of the region. The climate is said to be similar to that of the Côte d'Azur and ensures that 2,500 hours of sunshine beam down on the regions sandy beaches. June is the driest month and has the longest days. July and August are hotter and can be crowded on the beaches. St-Jean-de-Monts and St-Gilles-Croix-de-Vie are the most popular tourist resorts but the whole area is blessed with beautiful beaches and wonderful warm waters.
Activities and attractions are plentiful. The breath-taking night-time son-et-lumière spectacle is one attraction not to be missed and The Grand Park (a historical themed adventure park) is another. There are also several other theme parks, water parks and family fun parks in the area.
Camp sites and large holiday parks are scattered around the region and include Bel which is a four star site catering to families with children of all ages. The two large pools have safe areas for children and there are also several kids clubs and play areas.
Sol-Ã -Gogo is another of our favourite parks and is located in Northern Vendee benefiting from direct access to a stunning beach and also offering easy access to the pretty resort of Les Mouettes.
See all Vendee Holiday Parks >>
---