Discover the French Riviera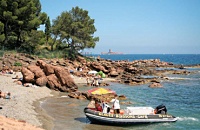 The glittering French Riviera is famous for being home to the Cannes Film Festival, and for the glamorous resorts of Monaco and St Tropez. These resorts bring in the rich and famous from all over the world and can be rather crowded in July and August. Families tend to visit this area in spring and early summer when the beaches are quieter and the sun cooler. There is much more to this area than just glitz and glamour.
Less known villages such as Eze and Gourdon have plenty to offer including beaches, coves, markets and many places to eat and drink. The town of Grasse is also worth a visit to see the wonderful perfumeries. The area has a thriving café culture and eating out is a real treat. Pizza restaurants are plentiful and cater well to families. Local food specialities include Bouillabaisse (a delicious fish stew) and Salad Nicoise.
There are several holiday parks in the Riviera including Les Pêcheurs. The charming and attractive holiday park has a large swimming pool, jacuzzi and good range of sporting facilities. The wonderful location means that beautiful beaches and trendy resorts are right on the doorstep.
L'Etoile d'Argens Holiday Park has a more relaxing setting. Surrounded by vine yards the site is tranquil but well equipped. There are plenty of organised activities and some special features including the 44 seat boat which will take you gently down the tranquil river to the golden and stunning beaches of St. Aygulf.
See all French Riviera Holiday Parks >>
---