Discover The Alps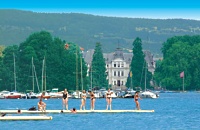 The French Alps are a very popular holiday destination. The beautiful mountains are well known for the large range of outdoor activities which can be enjoyed there. Popular activities include skiing, mountaineering and snow boarding. There are also a range of lesser known sports to try out in the region. These include white water rafting and paragliding for the more daring, and golf and walking for those who prefer a more gentle pace.
The Alps are an area of stunning natural beauty, bringing artists and photographers to the area as well as holiday makers. The area has several lakes, the largest being Lake Geneva. These lakes are year-round attractions not only for their beauty but also for the numerous water sports. Many of the ski resorts here have an exclusive feel and can be rather expensive. Eating out is a real treat with many mouth watering dishes. Cheese features strongly on most menus.
There are several holiday parks in the Alps. We like Le Sougey which is a peaceful park with a stunning lakeside setting. The park is popular with those looking to take advantage of the many out door activities on offer. The site also has a lakeside beach where you can lie back and relax or try out some water sports.
La Ravoire Holiday Park is a good choice for families. There is a beautiful pool complex with shallow areas for children and kids also have a play area to enjoy. The stunning scenery is a wonderful backdrop to the park and if you can drag yourself off site you can enjoy a range of out door activities in the area.
---