Discover Southern Brittany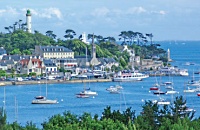 Southern Brittany is one of Frances best known and most popular holiday destinations. Getting there from the UK is easy with many regional airports, as well as ferries from several UK ports. The beaches in this area are some of the best in France and families flock here during the summer months to enjoy the warm weather and gentle waves.
Regular visitors to Southern Brittany will say they have their favourite beaches. The resort of Le Pouldu has three wonderful beaches and there is another at Pouldu Port. All have wonderful rock pools which children will love to explore! Away from the beaches there are several local attractions. Guidel is a pretty town with a lively Sunday market where you can buy lots of yummy local produce including fine wines and cheeses.
There are many holiday parks in Brittany. Some are large and sprawling with countless pools and facilities, and some are small and friendly. We love Le Ranolien. Just a short drive from a lovely beach the site offers top quality facilities including plenty of activities to keep the children entertained and a spa where adults can relax.
We also like Chateau des Ormes. Popular with families and golfing enthusiasts the park has a wonderful indoor and outdoor pool complex so you can have fun come rain or shine. There is also a good programme of organised activities for the whole family.
See all Southern Brittany Holiday Parks >>
---