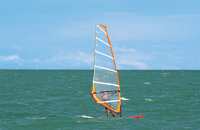 Taking a holiday to Slovenia is like being transported to a fairytale Kingdom! Imagine romantic castles, open lush countryside and beautiful unspoilt beaches and you are on the right track. As a holiday destination it has a new and exciting feel and those who have been return year after year.
Slovenia borders Hungary, Italy and Austria and like these better known countries it has it's fair share of ski resorts and stunning mountains. It also has a short but beautiful coastline stretching from Italy to the borders of Croatia. Despite the mountains and ski resorts there is very much a Mediterranean feel to the coastal areas where you will find families enjoying the gentle waves and soft sand. The cuisine is also very Mediterranean on the coast and more hearty and warming up in the mountains. So whether you are looking for a beach based holiday, sophisticated ski resorts or beautiful scenery you can find it here.
Ljubljana Resort is a small and friendly holiday park situated in the north of Slovenia. The site has plenty of facilities for the whole family including a wonderful swimming pool with kid's areas, jacuzzi and sauna. Sporting activities are plentiful and include badminton, kayaking and basket ball. Children are well catered for and there is a club offering organised fun activities.