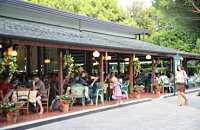 Corsica is a glorious sun-drenched Mediterranean island, jam packed with breathtaking mountains and sheer cliffs leading down to beautiful beaches. The sand is powdery and white and the sea an inviting shade of turquoise. There is also plenty of countryside to explore as well as many quaint, traditional villages and pretty market towns. This is also an island steeped in history and you don't have to look far to find Roman Ruins.
It is the beaches though that are the biggest attraction for holiday makers and there are many to choose from. Santa Giulia is perhaps the most popular and in the summer months you will find locals and tourists alike enjoying the shallow waters and gentle waves of the beautiful bay. The resort of Porto Vecchio is a more cosmopolitan area with a glamorous marina and large choice of restaurants and bars. Those looking for a romantic destination may prefer the untouched feel of Erbalunga which also has a lovely beach.
Marina d'Erba Rossa Holiday Park is a good choice for families and couples looking for a relaxing holiday. The spacious and attractive site has many facilities including a large pool, range of kids clubs and organised activity programme. The location is beautiful with direct access to a sandy beach.