Les Etangs Fleuris Campsite In Paris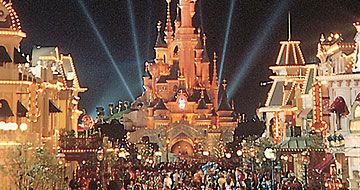 Paris is not somewhere you might traditional think of for a camping holiday, but now there are some amazing campsites in the Paris region that let you combine a family camping holiday with some days of culture in this romantic city. You can even visit Disneyland Resort Paris which the kids will love.
Les Etangs Fleuris is a perfect family holiday destination. It could be described as a laid back campsite based in the eastern countryside of Paris and is well positioned for visiting Disneyland Paris and the city of Paris itself. Les Etangs Fleuris is about 20 miles from Disneyland and there are regular coach services from the park which make getting their even easier.
Prices are very good in this region and holiday home prices start from just £262 per holiday home for the whole family. This includes a Dover to Calais ferry crossing which is excellent value for money! This park is also open at longer times of the year than some parks, opening in March and closing towards the end of October. Obviously the weather is better during the summer months but Disneyland is open all year round so if you are choosing this park as a base to go to Disneyland then you could get yourself a bargain out of season, in May or October.
And there is not just Disneyland to keep everyone entertained. From crazy golf to table tennis there are loads of things to do. The heated outdoor pool is a hit in the summer and is open from May to September when the weather is warm. And for keen fishers, you will be in your element with a fishing lake. You need to take your own tackle though as there is none for hire. If you need to stay in touch with the outside world there is also internet access at the Les Etangs Fleuris. Ideal for emailing your friends and telling them what a fantastic time you are having!
So why not treat yourself and your family to a great all round holiday including a trip to Disneyland? Click here for more information about Les Etangs Fleuris.
See all Holiday Parks in France >>
---