This page may contain affiliate links, meaning when you click the links and make a purchase, we may receive a commission.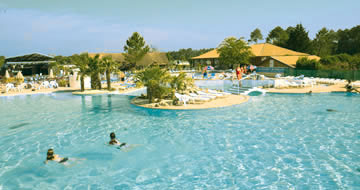 La Reserve Holiday Park in France is perfect for families looking for a peaceful retreat away from the hustle and bustle of everyday life.
The surroundings are quite idyllic and it your holiday should feel like a real escape for everyday stresses.
The backdrop to this holiday park is very beautiful with pine trees all around making for a lush green retreat. There is wildlife living in the area and you should be able to spot a few squirrels who have made La Reserve their home!
It is on a very big complex which is well looked after and spotlessly clean. Sometimes it can be the luck of the draw as to exactly where your holiday home or caravan is positioned but some are in a lovely setting on a grassy site with trees which help to shade you when the sun is at it's hottest. You can upgrade to an air conditioned caravan which is recommended in the height of summer.
Long sunny days can be spent in the swimming pools, choose from indoor or outdoor pools. There are even some water slides which always prove to be a hit with the kids as well as other facilities specifically chosen to keep the whole family entertained within the holiday park. There is a dedicated life guard always on duty within the campsite so you can rest easy that your children are swimming safely in the La Reserve pool complex.
If you like to get out and about there are some nature walks to follow so get your comfy shoes on and set off with your family on a walking adventure! As well as being surrounded by trees and nature you are also close to the coast so you really do have the best of both worlds at the La Reserve holiday park in France. Loads of beaches to choose from but one definitely worth a mention is the Dune Du Plya which is actually Europe's biggest sand dune! 30 minutes drive away is a gorgeous beach with white sand and green sea – breathtaking! This is in the Biscarosse Plage area. Parking is free in this resort and the waters are warm and safe for kids to play in the sea and make sandcastles on the beach. Contis-Page is also a lovely resort with a nice sandy beach about 20 minutes from the La Reserve campsite.
Most things going on at the La Reserve campsite take place around the pretty beach by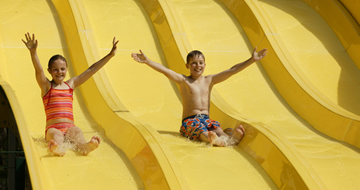 the lake. Here you will find a choice of watersports including sailing and windsurfing for the more active. There are courses you can take too if you have the time to spare and want to learn a new skill while you are in holiday in France.
At the time of writing you can get a holiday home from just £269 per family for a week which is a real bargain for a French holiday park. This price even includes a return Dover-Calais ferry crossing. And you can save up to an extra 25% off just by booking your family holiday early. See our special offers page for more details.
Children's clubs are the real highlight of the holiday for many kids and the La Reserve campsite does not disappoint on this front. The children's clubs on this holiday park are based much of the time on the lakeside beach so your children will be out and about enjoying the fresh air and not stuck inside. The children tend to really enjoy being outside and making new friends.
There are 3 kids clubs in total split into age groups so you can be sure the campsite activities your kids are taking part in are suited to their ages. They certainly won't be bored with so much going on! On of the most popular clubs is the Tiger Club for 5-9 year olds.
As for general leisure activities for the whole family within the La Reserve holiday park there are 4 play areas, bike hire, canoe hire, football coaching, table tennis and loads more. This is great for kids who are active and sporty especially those that love football as they get the chance to have some specialist coaching which they tend to really enjoy. And of course the rest of the family will not be stuck for things to do either. Why not hire bikes and get out and about and explore the campsite and the surrounding area of Aquitaine.
If you were to read the reviews in various review travel sites you will see that they are by far very positive many giving the La Reserve Campsite 8 or 9 out of ten and some even saying they had a perfect holiday.
The overall location of La Reserve is enviable as it is in the beautiful South West region of France and the weather tends to be nice and warm throughout the summer months. La Reserve is only about an hours drive from Bordeux so it's always a good idea to take off and see this part of France famous for its wines. As for other things to do in the region you can take bike rides round the breathtaking lake, and some zoos and childrens theme parks in the area you can visit. One tip is to take a high factor sun cream for children of at least factor 50 as the sun can get very hot.
In the evening on the campsite there is some family entertainment which is light hearted and a great way to round off your busy day. Sometimes the kids clubs perform shows so you get to see the product of what your kids have been up to during the last few days! The entertainment is enjoyable and has received some favourable reviews.
If you like to visit local towns or villages the ones close to La Reserve are not especially historic or quaint but nice for a visit with the family and a walk around.
There is a campsite shop on La Reserve which stays extremely well stocked although prices can be quite high compared to supermarkets. But for the odd thing you might run out of you should be able to find it at the camp site.
All in all this is a beautiful campsite to visit with family which offers loads of entertainment and plenty to do outside the campsite in Aquitaine.