Le Vieux Port Campsite in Aquitaine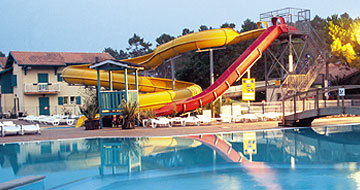 Le Vieux Port Holiday Park is one of the best equipped campsites in France for kids so if you're going on a family holiday then this park is highly recommended.
There is a free kids club called the Tiger Club for 5-12 year olds which operates throughout the summer from May until the beginning of September.
If you like swimming then you will be in your element with a choice of outdoor pools and even some water slides! If the weather is not so good or if you just want some shade, there is a heated covered pool as well. For kids there is a paddling pool, perfect for the little ones.
As for other facilities on the holiday park itself you will find a launderette, car wash, shop and hairdressers. Sports and leisure facilities at the Le Vieux Port Campsite are also plentiful. There are things to do for the whole family including bike hire. So why not get out on some bikes and explore the surrounding areas?
There is a crazy golf which is always a hit with kids and adults alike. For the more active there is a football pitch. Indoors you will find some amusements and satellite TV in the bar. There will be no time to get bored and you certainly won't be stuck for things to do on the campsite itself.
But if you like to get out and about then there is even more! You will find a beach just half a mile from the campsite and golf courses just 15 minutes away for golf lovers. For the adventurous there is a place where you can hire quad bikes. If you like watersports then there is sailing, white water rafting and canoing all close by too.
The location of Le Vieux Point is lovely set in natural surroundings with some gorgeous sandy beaches very close by. And for nature lovers there is an abundance of wildlife here from rabbits to red squirrels. This is definitely one of the best holiday parks in Aquitaine, France.
For an amazing family day out in Aquitaine while you are there catch the steam train to
Marqueze from Sabres Station and you will find an open air museum which captures life in the Aquitaine region in the nineteenth century.
There are also some quaint medieval towns in the region well worth a visit. Aquitaine is also famed for some of France's finest wines.
---