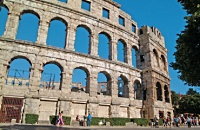 Holidays to Croatia have become more popular in recent years and this trend is set to continue. This rise in popularity comes as no surprise to those who have been, and seen for themselves the stunning beaches, cobbled streets, pretty harbours and quaint traditional towns. There are several large resorts and many options for accommodation including some fantastic holiday parks.
The landscape is rustic and charming with pine forests, rolling hillsides and dramatic valleys. The beaches are sand, shingle or pebble and the sea is clear and deepest blue! Families come for the relaxed pace and comparable peace and quiet that you just don't get in large holiday resorts in other countries. The marinas are a good place to head on an evening when you can enjoy a meal and drink while watching the yachts bobbing on the water. The beaches themselves are ideal for relaxation although those looking for more action will be pleased with the wide array of water sports of offer.
Campsite Lanterna is a large and lively park with a varied range of activities and a stunning pool complex. The location offers easy access to a crescent shaped bay which is right on the doorstep, making the park perfect for anyone looking for a beach holiday with plenty of on site facilities. The site has an excellent range of children's facilities so is a good choice for families and there is no shortage of options when it comes to eating and drinking.