Safari Tents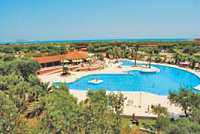 If you like the idea of holiday parks but want more adventurous accommodation, than holiday homes then the new safari tents could be just what you are looking for. Inspired by African style Safari accommodation - the tents are spacious and luxurious. Perfect for families they each have a good size decking area where you can relax, sunbathe or dine alfresco.
The tents are fitted out with top quality furnishings including a stylish wooden dining set, sun lounges and even soft and comfortable rugs. Duvets are also provided and other linen can be booked in advance. Safari tents have a spacious feel and can sleep up to six people. There are two bedrooms with superior beds and a fully equipped kitchen with fridge, grill and gas hob.
These tents may look rustic but they are in fact chic and modern with electric lights and sockets. They also come with a cool box so you can take your drinks out on to the terrace. So if you are looking for the ultimate luxury camping experience then look no further. Safari tents are available at several holiday parks including El Delfin Verde in Costa Brava, Weekend in Lake Garda, La Croix du Vieux Pont in Paris and Sérignan Plage in Languedoc.
---