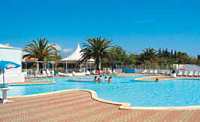 Marina d'Erba Rossa is an attractive Holiday Park offering some stunning views across the sandy beach and out to sea. This is an area of great natural beauty and the long sandy beach that runs beside the park has a breathtaking backdrop of mountains. The beach is perfect for both relaxation and fun and games. There are many water sports on offer during the summer months too. The small town of Ghisonnaccia is 3km away and has a selection of cafes and restaurants as well as some shops. If you are in the area on the 2nd of June you can join in the fun at the Feast of Saint-Erasme – this lively festival includes a seaborne procession, blessing of boats, and seafood tasting.
The site itself is perfect for families with children of all ages and during the summer offers a very comprehensive programme of activities and entertainment. Sporting enthusiasts can enjoy tennis, volleyball, basketball and cycle hire. Those looking for more adventure can try out Quad biking, horse riding and surfing which are all available locally. Children are well catered for and there is a children's disco most evenings before the main entertainment. There is also a games room. In high season, evenings are lively with a large open air disco on the park and a popular late night discothèque nearby where you can dance until the early hours! The onsite shop sells a range of self catering essentials but there is no need to cook with a restaurant, creperie and take away onsite.
Accommodation is in classic six birth tents which are spacious and well equipped. The kitchens have everything you need for self catering including a grill and gas hob, fridge and cool box. The dining area opens to the outdoors allowing you to enjoy relaxing alfresco dining. Classic tents also have three bedrooms making them perfect for families.