A lively park which proves very popular with families of all ages. The location is simply stunning on a gently sloping hillside beside the beautiful lake. The charming village of Cisano is just a short stroll away and offers a good selection of restaurants and shops. The park is split into two with the Cisano end having the shop and restaurant, pools and evening entertainment, and the San Vito end being more peaceful and ideal for those with younger children.
The park benefits from having a pretty lakeside beach where guests can lie back and relax while enjoying the gorgeous views. This lakeside setting makes the park ideal for those who enjoy swimming and watersports but there is plenty to do on dry land too. Crazy golf, tennis and lively evening entertainment are all on offer at this fantastic park. In high season there is also an excellent programme of activities to keep the children happy.
Guests can choose from a range of modern mobile homes including the very spacious and rather luxurious Villanova models which sleep up to 7 people, and the more traditional Supernova which are basic but still very well equipped. Those who enjoy a more authentic camping experience could opt for a Supertent which are equipped with all the mod cons and are very spacious sleeping up to 6 people.

Market Leaders - Reliable & Affordable - Family Friendly

Great for Explore & Adventure

Great for Full on Fun

Waterslides

Watersports

Theme parks

Football

Cycle Hire

Sports

Fishing

Near Lake

Horse Riding

Table Tennis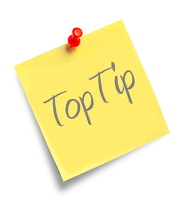 Cisano San Vito Top Tip
"Enjoy relaxed family dining in one of the villages friendly restaurants."

Park Info
Parc sizeLarge - 1000 Pitches:
Opening Dates: 25/04/2017 - 04/10/2017
Nearest Airport: Verona (VRN) - 30km
Recommended Port: Calais - 1230km
Direct Access to Lake: Direct Access
Nearest Town: Bardolino - 2km


Activities
• Tennis
• Table Tennis
• Football
• Badminton
• Volleyball
• Archery
• Crazy Golf
• Fishing
• Playground
• Canoeing
• Pedalos

Out & About
• Book a trip to Venice or Verona!
• Walk along the lakeside to Lazise and Bardolino
• Don't miss a day out at Movieland theme park

Attractions close to Cisano San Vito
Gardaland
Gardaland is the largest amusement park in Italy and one of the largest in Europe. It offers its visitors no less than 11 different shows each day and 5 themed restaurants. The park has rides for the courageous such as Blue Tornado, Space Vertigo and Magic Mountain or you can discover the ruins of an ancient oriental temple on board a rubber dinghy or there is Fantasy Kingdom for the children.
Canevaworld
Largest water amusement park in Italy. There are different shows everyday. The park includes - aqua park, amusement park, large water slides, aqua gym and a boating lake. Restaurants, bars, ice cream parlours, shops, pizzeria.
Parco Termale del Garda
Between Cypress, Thhuya-Trees, centuries of old beech-trees has been discovered a thermal source which transformed a splendid park to a place of joy - where you can find your well being in the embrace of the warm thermal water. There is also the Aesthetic centre where body and face treatments are provided using products from The "Thermal park Garda",
Restaurant around the lake.
Parco Naturo Viva
Parco Natura Viva is a park split into two, Faunistic park and Safari park. The Faunistic Park features wild animals from European forests and other forestry animals of the world including wolves, wild boar, and pumas. The Safari park includes the big wild animals of Africa such as lions, leopards and elephants. There is also a botanic garden to explore along with a dinosaur park.
Need to travel around park in own car.
G.Rambotti Musuem
The museum was inaugurated in 1990. It displays the finds of a peat bog near Desenzano. In addition to ceramics, flint arrowheads, weapons and utensils, there is a large oak plough from around 2000 BC.
Ferrari Museum
Enzo Ferrari was born in Modena on 18 February 1898. Just to the south is Maranello the present headquarters of Ferrari. Galleria Ferrari built in 1988 is just around the corner from the factory. Unofficially known as the "Temple of the Red Road Gods", this modern two storey building holds exhibits of both racing and road cars. The museum contains books and other memorabilia including hand built die cast models of various Ferraris.
Other parks like Cisano San Vito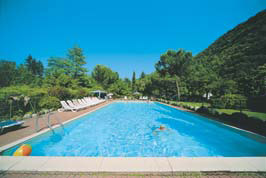 ---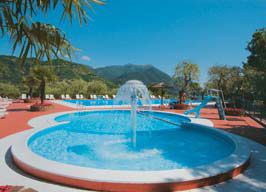 ---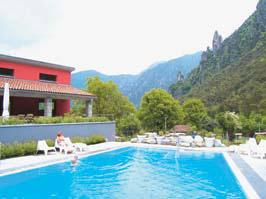 ---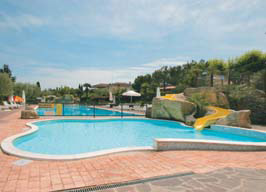 ---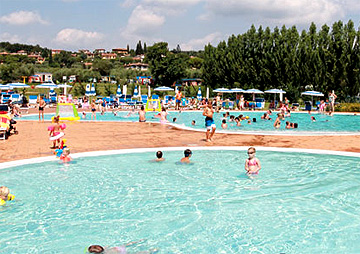 If you are looking for a comfortable base in Lake Garda then look no further as Camping Piantelle has it all including it's very own private beach.

---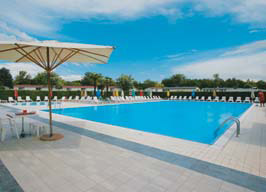 ---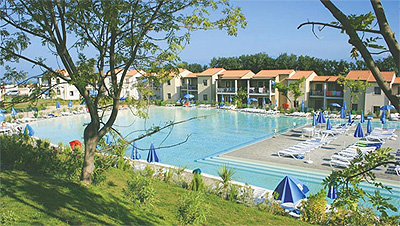 Set at the foot of the Italian Alps, the views at Belvedere Spa are simply stunning.

---