Pra Delle Torri Holiday Park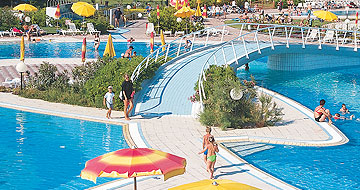 Pra Delle Torri holiday park is a fantastic family complex situated in a stunning location in caorle Italy. With the largest swimming pool in Italy on site it is certainly impressive. The site is simply packed with facilities and shopping fans will love it as it even has its own small high street of shops.
The extraordinary range of facilities is what brings families back here year after year. The site is large yet still manages to retain a relaxing feel and there are many quiet grassy areas dotted around as well as plenty of places to sun bathe.
The large pool complex is made up of 3 larger pools and several paddling pools which are safe for smaller children. There are several slides and water chutes to keep older children amused.

The huge range of sporting facilities includes Basketball, tennis courts, Mini golf, a Fitness trail, Archery, Volleyball and Table tennis. There is even a 9 hold g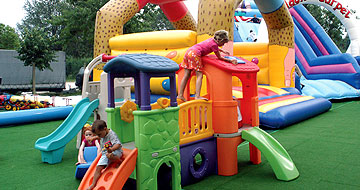 olf course and bike hire is available and is a great way to explore the park. Fitness fans will be pleased to know that there is an on site Gym. Other facilities include Amusements, several Play areas and a Go-kart track which older children will love!!

Children can be kept amused at the parks own children's club which has a comprehensive program of day and evening activities and evening entertainment is family friendly and includes cabaret shows and dancing most nights.

There are many places to eat on site if you choose not to take advantage of the self catering facilities or just fancy a night off. You have the choice of 4 snack bars , an Ice cream parlor , Restaurant and Takeaway there are also several bars in which to enjoy a drink or two and the on site supermarket is well stocked and a good place to buy supplies and goodies to enjoy on the free charcoal BBQ's.

The park has its own small beach which is great for families. Other facilities available near by include Windsurfing, Pedalos, Sailing, Parasailing and water skiing. There are also several mountain bike trails for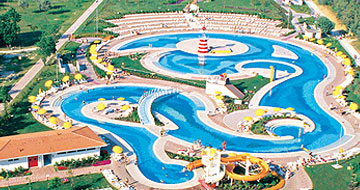 those who like to get out and explore.

The park has an excellent location with easy access to many of Italy's attractions. The historic and stunning city of Venice is just 30 miles away and is a great City for a romantic day trip. Bear in mind though that Venice gets very hot during the summer months and therefore families with younger children may prefer to visit somewhere more family friendly such as lido de Jesolo which has a fantastic beach and plenty of shops and places to eat too. The aquapark situated near Jesolo is a great family day out.
This is a fantastic park with so much going on it will be easy to please the whole family. For more information click here.
---