L Hippocampe Holiday Park In Languedoc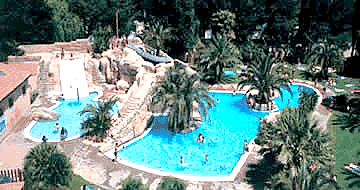 L'Hippocampe holiday park in France has been described as one of the most serene and tranquil holiday parks making it a good choice if you want to relax and get away from it all.
The weather in France in the summer months is beautiful, adding to the long warm relaxing days.
But just because this holiday park is in a peaceful location this doesn't mean there is not plenty of entertainment for the whole family. The outdoor water complex is a real highlight on this campsite with 3 lane water slides and a water chute. For the younger guests there is also a paddling pool. This great for helping toddlers cool down in the French heat.
For the more active there are Tennis and Football facilities. You can also play Boules and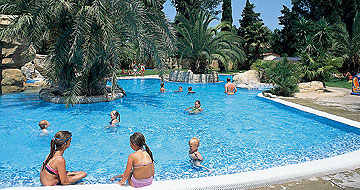 Table Tennis. For the kids there is a play area which always proves to be popular. When the kids tire of the play area why not enrol them in a kids club to take part in even more activities.
The Tiger Club is designed for 5-12 year olds and The Paws are for 1-4 year olds. Both of these clubs are completely free of charge and you will find that they really help your kids make friends on the holiday park.
If you take the Dover to Calais ferry crossing you can either drive to the holiday park if you have brought your car or why not hire a car when you get there so you can explore lovely Languedoc. Another option is to take the French train from Calais to Narbonne. If the ferry is not your thing you can fly drive to the holiday park via Perpignan, Gerona or Barcelona. Budget flights to Gerona and Barcelona tend to be very reasonably priced.
Whilst staying at the Hippocampe you are also welcome to use the facilities at the nearby La Sirene holiday park which has evening entertainment.
---