La Pignade Holiday Park in Charente Maritime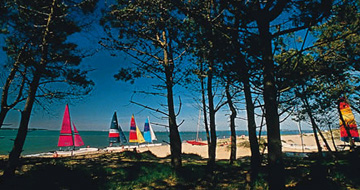 La Pignade Holiday Park in the area of Charente Maritime may be small in comparison to some of Siblus holiday parks but it is bursting with facilities and has a really nice friendly feel and relaxed atmosphere.
This is a great holiday park for families looking for a great base with plenty of activities and children's entertainment and easy access to beaches and other tourist attractions.

If relaxing is top of your "to do list" on holiday than this is the perfect place. Relaxing and stress free are terms often used by previous holiday makers to describe this place and with so much going on for the children it is easy to see why.

There are several children clubs here. Bubbles club is for 1-4 year olds, pirates for 5-9 year olds and barracudas for 10-14 year olds. All the clubs offer great activities and some parents even complain that they don't see enough of their children as they always seem to be off with their new friends or taking part in one of the activities.

When not at one of the clubs they can enjoy the pool with waterslides and splash zone.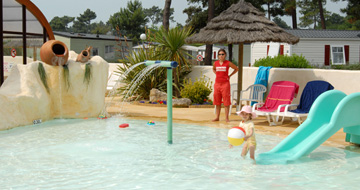 Smaller children have their own paddling pool. Both pools are heated and the main pool is also covered. Water polo and volley ball take place regularly in the main pool for those who like to keep active.
If you prefer something more sedate you could have a relaxing massage over looking the pool complex (Summer season only).

Other facilities here include, table tennis, tennis, boules, volley ball and fitness sessions. This is also the perfect place for football fans with Siblu soccer holding weekly tournaments for all age groups including adults throughout the season. The recent addition of horse and pony riding is proving very popular and is a great way to explore the surrounding woodland which also has miles of cycle paths and nature walks.

There are several places to eat on site including a café, bistro and take away, there are also several bars in which you can enjoy a quiet drink and evening entertainment is usually held at the outdoor venue.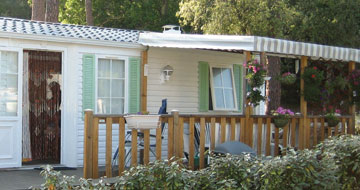 If you choose to cook for yourself in your fully equipped holiday home, then the on site supermarket is well stocked with essentials and anything else can be picked up form one of the near by towns or villages.

There are several great places to visit near by.
Royan is a great sea side resort with some beautiful sandy beaches and a lively holiday atmosphere along. If you fancy an evening off site then this is a great place as there are two casinos here.
There is also a large marina surrounded by numerous restaurants serving really good quality food. Also close by is the ever popular 'Parc des Jardins du Monde'. This is a great place to see unusual plants such as orchids and bonsai. The zoo at La Pignade is a must for children.
See all Holiday Parks in France >>
---