Campsite Lanterna Croatia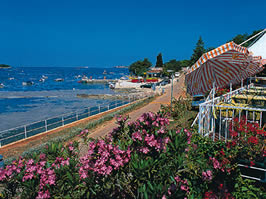 Croatia is an absolutely beautiful country and a perfect choice for a holiday park break either for couples or families. The scenery is out of this world and the towns are pretty and ideal for wondering around exploring. Croatia was actually ruled by the the Venetians for over 400 years and due to this the country has a very Italian feel which adds to the total charm of the place.
Almost all of the towns have 2 names, a Slovic name and an Italian name. For example the main tourist areas or Porec and Ravinj are also called Parenzo and Rovigno. Porec is a gorgeous resort suitable for families and couples alike. It has a Venetian style port and stunning rocky headlands surrounded by lush blue green waters.
As well as the quaint tourist towns and spectacular scenery there are some family attractions close by. The Plitvace Lakes National Park is well worth a visit as there are 16 sparkling turquoise lakes connected by stunning waterfalls. The effect is simply breathtaking and you can walk along the 18km trail. This is a great place for getting out in the fresh air and exploring. If you like Religious Architechture then a trip to the Euphrasian Basilica is a must.
If you intend to visit Croatia in July or August then the Cave Baredine will be open. You can take a 45 minute guided tour around this fantastic system of caves which are full of natural sculptures made by the underground water itself.
Kepcamp offer a wonderful holiday park near Porec called Campsite Lanterna. This is a large campsite close to the quaint Croatian town of Porec with lots of amenities coupled with lovely weather and reasonable prices.
Lanternacamp is one of the most impressive campsites out of all of the holiday parks they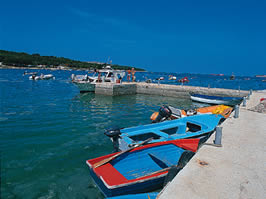 deal with. This could be due to the abundance of activities on offer as well as 3 stunning swimming pools and a fabulous restaurant for evening meals and lunches. The view from the r estaurant is stunning over the bay. If you like more entertainment in the evenings then you won;t be disappointed here as there is a nightly family disco.For a more lively evening, there is a nightly family disco.
The area's most popular tourist resort of Porec is around 11km from the holiday park. In this region of Croatia you can explore the Istrian coast you will come across some lovely inlets and islands. If you head away from the coast inland you will find some unspoilt towns and villages and you will really feel like you have gone back in time! Not to mention the backdrop of mountains making this place even more spectacular. Whichever direction you look you will be wowed by the views.
A holiday park break is a great way to explore this region as it will be cheaper than hotels and you will also have more freedom. Choose from Villa Classic accommodation or Villa Classic with decking. Holiday homes come with Fridge with freezer compartment, stereo CD player & radio, microwave oven, gas barbecue (where permitted), full-size double bed, hairdryer. Check the specific holiday home you want to to book as features can vary.
---