Enjoying a stunning, natural location, Pont l'Evêque is also a superb base from which to explore Northern France. Nestling in orchards surrounding the lake and overlooked by the château itself, this is a glorious setting for a family holiday. No wonder then that Le Brèvedent is such a perpetual favourite with our customers.
It's a well run parc with immaculate facilities where you will receive a very warm welcome from the friendly Anglo-French owner who gives the parc a special feel. And the stunning location in the heart of Calvados Country isn't the only reason this 'Castels' parc is in demand. It offers every diversion, from excursions to Paris, to a spot of lake fishing. You are also within easy reach of super beaches, picturesque Norman villages and some quite exquisite countryside, no wonder this is such a favoured region of France.

Market Leaders - Reliable & Affordable - Family Friendly

Great for Authentic Europe

Watersports

Near Beach

Football

Cycle Hire

Sports

Fishing

Near Lake

Horse Riding

Canoeing

Table Tennis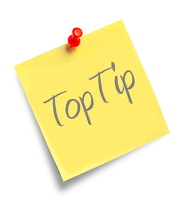 Chateau Le Brevedent Top Tip
"Fly drive is an easy option with airports at Paris and Dinard within easy reach of this holiday park."

Park Info
Parc sizeSmall - 132 Pitches:
Opening Dates: 06/05/2017 - 09/09/2017
Nearest Airport: Deauville (DOL) - 12km
Recommended Port: Caen - 57km
Nearest Beach: Deauville, Trouvilles, Villers sur Mer - 25km
Nearest Town: Blangy Le Château - 3km


Activities
• Tennis
• Table Tennis
• Football
• Badminton
• Volleyball
• Boules
• Crazy Golf
• Fishing
• Playground
• Cycling
• Canoeing
• Rowing boats

Out & About
• Friendly, authentic family-run parc
• Splash around the pool with a beautiful backdrop of a chβteau
• Wander through the authentic French streets of Rouen

Attractions close to Chateau Le Brevedent
Aquarium Vivarium de Trouville
600m² of exhibition floor space. Over 70 tanks representing sea life from around the world. Also animals and insects from the rainforests around the world. There is also a gift shop.
Festyland
Leisure park for all ages. There are rides for smaller children and families. A Viking battle is held every day in July and August. Free parking. Souvenir shop and a variety of restaurants.
Zoo Cerza
This zoo has the animals in their natural environment. Over 50 hectares of enclosures. Great observation points allow the visitor to observe the lions and other large cats. A mini-train is available to take you on a tour of the zoo. Free parking, restaurants, take-aways and a souvenir shop.
Zoo Jurques
Zoo set in 10 hectares of land. Many species of animals and you can watch as the animals are fed.
Bayeux Tapestry
The Bayeux Tapestry tells the story of the Norman Conquest. It is over 900 years old and is 70 metres long with 58 different episodes.
Chateau de Henry Fontaine
13th Century Chateau which has been preserved as a family home. Architectural styles are Gothic, Renaissance and Neoclassical. A magnificent collection of Renaissance paintings, porcelain and furniture are on display.
Musee de Normandie
This museum opened to the public in 1963 and focuses its collections on the following: the History of Normandy, archeology and ethnography.
Chateau de Creully
Chateau de Creully became a VIP overnight House during WWII after Montgomery captured it. The chateau can be visited by private arrangements. Close by is Creully castle which is another fascinating place to visit.
Naturospace
Opened in 1999, Naturospace is 800m² of tropical paradise. The temperature is controlled at 28 degrees and the visitor can stroll the 200 metres of paths whilst admiring the tropical plants. There are also over 50 species of butterflies in Naturospace.
Calvados Pere Magloire
Guided visits of the calvados museum with tastings available. Discover all there is to know about apple brandy (calvados) and its associated craft.
Musee du Debarquement
The museum has a mission to tell younger generations about the events of 6th June 1944. The museum was created in 1953 and is built on the site of the artificial harbour. Guided tours are available in English and German. A visit lasts 1 hour and 15 minutes. Souvenir gift shop at the museum.
Le Memorial de Caen
The Caen Memorial was born out of an idea to create a place reflecting on world wars. The museum places the emphasis on emotions of war. There is a park where you can stroll around. Interactive data terminals. Video and book shop. Restaurant, bar and giftshop. Free Parking. Around half a million visitors each year.
Musee de la Seconde Guerre Mondiale
Small museum dedicated to the second world war. Displays of miliatary weapons and uniforms.
Other parks like Chateau Le Brevedent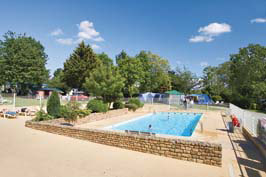 This campsite will appeal to families looking for a relaxing base in France with a tranquil and stunning location in the grounds of an old manor house.

---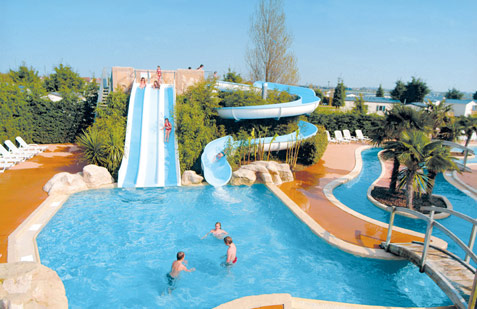 La Cote de Nacre is a family run park and this is evident in the well cared for appearance of the park and also the excellent facilities including no less than 5 pools to enjoy.

---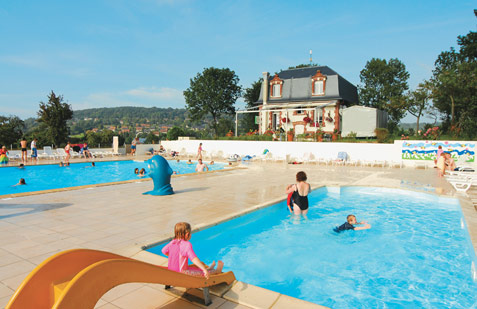 ---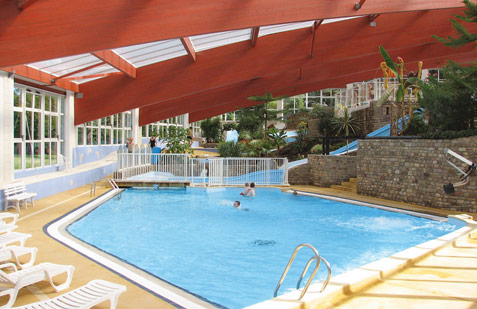 The setting of this popular holiday park is superb in the parklands of an 18th century chateau and food lovers will enjoy the gastronomy evening in high season.

---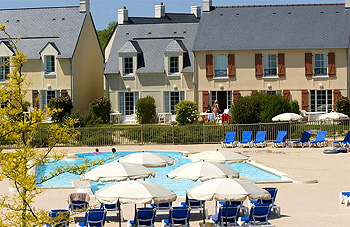 This resort is 9 km from Omaha Beach, one of the D-Day beaches, and close to the lively town of Port-en-Bessin.

---
Related Reading for Chateau Le Brevedent

Discover Normandy
The Normandy region of France stretches across 360 miles of stunning and dramatic coastline. The beaches are packed with families enjoying the sunshine during the summer months, while at other times of the year many visitors come to see the emotionally evocative World War II D-day landing beaches. Of course with so much coastline it would be easy to think that this place is all about the beaches and, while they are a big part of what makes the area so popular there is also much more to enjoy...