Bonne Anse S.A.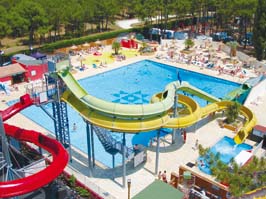 This holiday park is one of the most popular in the region and it's easy to see why. Bonne Anse S.A. has it all from an amazing pine forest location to the 5 pool complex with fabulous waterslides. This park will appeal to those who like to make the most of the sun with some lovely sun terraces and within easy reach of many golden beaches.
With a 4 star rating you know that you are going to get good quality but the accommodation is also excellent value for money. Choose from tents or a number of mobile homes. The 2 and 3 bedroom Superior and Comfort homes are spacious and very well equipped. Some also come with a deck where you can enjoy a relaxing drink or meal outdoors.
Local attractions are plentiful in the Gironde region and we recommend a visit to La Palmyre Zoo which is the largest zoo in France. You could also take a trip to the Brandy Distilleries of Martell and Hennessy.

Market Leaders - Reliable & Affordable - Family Friendly

Our Top Tip
"Visit between 22nd July and 26th August to enjoy the weekly music festival at nearby Pauillac."